Book The Indianas For Your Wedding Day
Find out everything you need to know about booking The Indianas to entertain you and your guests on one of the biggest days of your life!
Celebrate Your Wedding Day With Amazing Live Entertainment
When it comes to weddings, we know how to bring the party. Packing dance floors, performing great live music and playing music that everybody loves is what we do!
As standard, we play a fully-interactive, high-energy 2 hour live set. With huge sing-along tunes from the past 5 decades, you can be certain that we will have something for everyone to sing and dance along to.
We are an approachable, friendly group of professional musicians with one simple job on our hands: to give you the best evening entertainment you could possibly wish for!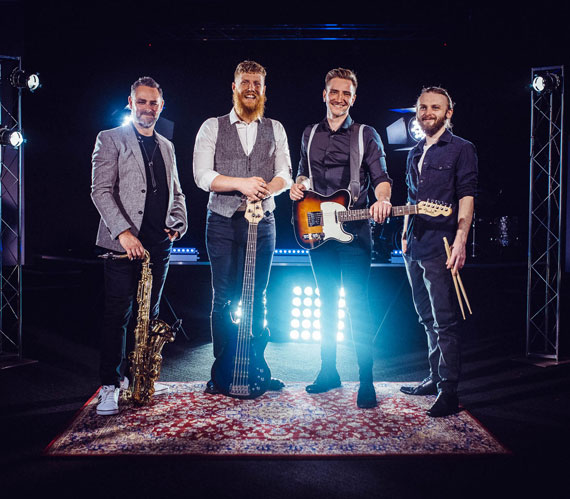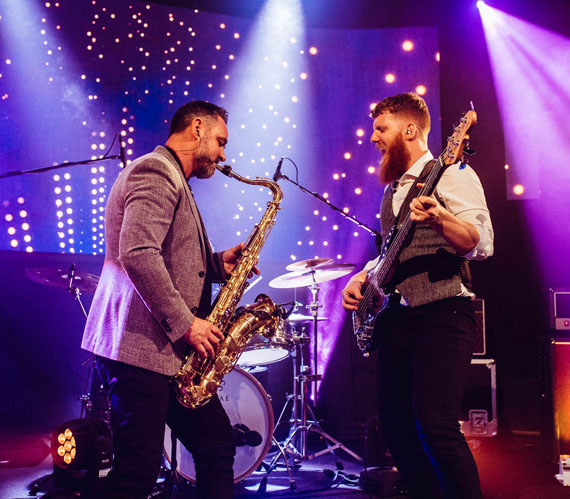 Hand-Picked Set List, Guaranteed to Pack Your Dance Floor!
Unlike a lot of bands, we invariably choose our live set list on the night as we go.
Every audience is different and picking the set list like this allows us to adapt and change to suit the mood of the evening and the type of crowd we have in front of us.
It's this expertise that sets us apart from many other bands in the industry. However, we will encourage you to choose a few favourites from our repertoire in advance so that we can include them as well if possible.
Add Something a Little Different During The Afternoon & Evening…
In addition to our 2 hour live performance, you also have the option to add on some extra afternoon and evening entertainment.*
So, if you decide that you want some music to entertain you and your guests during the drinks reception or during dinner, we also offer Afternoon Acoustic Options, Piano & Vocal Options & Solo Sax & Additional Swing Set options… If you've not already seen what we can do, you can watch our videos here.
*All of the additional entertainment options are only available on existing bookings. These options are not sold separately.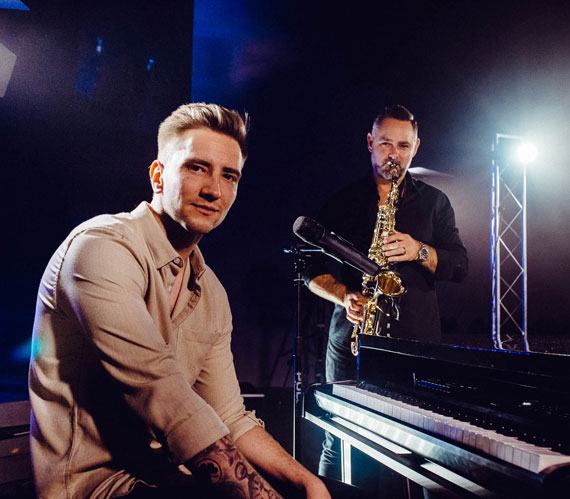 What's Included With Your Booking…
Take a look below for an overview of what is included when you book us to perfom on your special day…
Free Disco Included
We provide an interim disco before, in between and after our live performances to ensure that you don't go without music for the entire evening.
Industry Sound & Lighting
We provide our own pro-grade sound and lighting equipment so that you don't have to worry about using any additional 3rd party contractors/suppliers.
PLI & PAT Certification
We are covered for up to £5 million of Public Liability Insurance and all of our equipment is PAT tested. We will send across all of our certification directly to your venue.
Flexible Payment Plan Options
Making payment doesn't have to be difficult. We offer a variety of interest free payment plan options to help you spread to cost of your booking.
Hard Copy Contract
We will provide you with a hard copy, legally binding contract so that you can be sure that you're not booking a band that will not turn up on the day.
And Much More...
We provide extra benefits including a FREE GuestRequest.co.uk account, a £30 FirstDancePrints.co.uk voucher, additional entertainment & more…
Contact Us For A Free Quote
Please complete the form below so that a member of our team can get a quotation sent directly to your inbox. We aim to send an accurate quote within 24 hours.